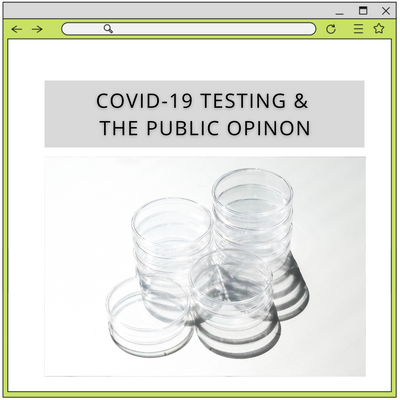 Could saliva collection as an alternate testing method improve the system?
By: Rebecca Peterson 
We discuss results of our survey enlisting the public's opinion in understanding concerns surrounding the current methods of COVID-19 testing. We examine the ways we see the process improving by changing from the current use of throat or nasal swab collection of testing samples, to use of saliva as the primary collection method. Scroll to the end for links to our saliva collection and viral DNA/RNA extraction kits available for research.
The results from our survey asking "What factors are important to you, or concern you, regarding COVID-19 testing?" are in and they are fascinating...
Accuracy of Testing
Over 70% of the 585 individuals who responded to our survey voiced concerns about the accuracy of current COVID-19 testing methods.
With a reported rate of false negatives between 2% and 29%, combined with the severity of consequences surrounding inaccurate results.. Think…
False negatives— potential to unknowingly spread the virus to loved ones
False positives— 10 to 14 day quarantine, all close contacts tracked down and expected to do the same until receipt of a negative test of their own, isolation from loved ones, etc.
The accuracy of testing as a primary concern should come as no surprise.
Now throw in possible state expectations that you quarantine for so many days even after receiving a negative test result or rumors of people receiving positive results when they had not even gone through with the test, all inspire little trust in the validity of the current testing process.
Health Care Workers
Our runner up, an empathetic response, was the desire to reduce risks for health care workers. There is no doubt that those in the health care sector are some of the hardest working warriors in this fight and certainly the most at risk of exposure. If there's one thing we can all agree on, it's that we need them working and we need them healthy. If we can reduce the risk of exposure for them, even by a small amount, we are making the right choice. If COVID testing methods switched to saliva collection, we would be doing just that, as the patient or caregiver would be able to complete the entire collection process with no need for a medical professional in sight.
Qualified Personnel & Cost
Next was a tie between having enough qualified personnel available to administer the tests and the price of the test. With saliva collection methods, no additional "qualified" personnel would be necessary. Patients and caregivers would be responsible for both collecting and shipping the sample to their lab or clinic at their convenience. By eliminating the cost of the office visit to receive the test, prices for the patient could easily see a drop.
Barriers
Both of the next two concerns, limited PPE available for testing sites and the barriers to accessing testing sites, would be eliminated with the availability of saliva collection methods from home.
Discomfort
Last, were the concerns surrounding the discomfort of the current nasal collection methods. Whether you have a young child or a sensitive gag reflex, there is no doubt saliva collection would be preferable over the experience of a long stick with soft bristles inserted inside the entire nasal passageway, so far up that it causes one to produce tears if performed correctly.
Purchase our Saliva Collection Kits
Here at IBI Scientific, we value understanding the needs and concerns of our customers and community. We support the numerous research centers around the globe who are analyzing whether saliva collection could be a viable alternative for COVID-19 testing. View the following pages to purchase any number of our products approved for life science research:
Saliva collection viral RNA samples (COVID-19)
Viral DNA/RNA extraction kits (column based)
ViraMag - Magnetic Bead Virus DNA/RNA Extraction Kits
If you have any questions about any of these products or others, email us at info@ibisci.com.
*Any opinions expressed in this blog in no way reflect those of IBI Scientific and are solely that of the author.