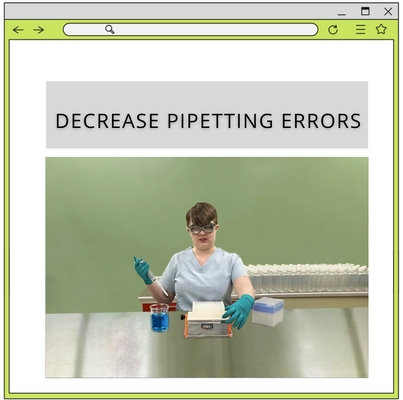 Table of Contents:
As a researcher, when the topic of pipetting comes to your mind you might have a whirlwind of thoughts. Thoughts ranging anywhere from stress, annoyance or even indifference.
Regardless of which feeling that pipetting invokes in you, pipetting can make or break your lab productivity.
With good pipetting techniques and proper preparation, pipetting makes the day-to-day operations of your lab move smoothly. But without adequate pipetting techniques, both you and your lab suffer.
According to a survey conducted by The Scientist, it was discovered that, "human error is the largest source of pipetting problems." Even the most seasoned scientists can find themselves victim to the occasional human mishap or mistake.
Human error accounts for over half of errors – a whopping 55% to be exact. That is a percentage far too large for any scientist or researcher to ignore. Keep reading if you would like to know how IBI's new product can help to reduce common pipetting errors.
What are some common pipetting errors?
Over-filling your wells with material, leading to unwanted spills
Underfilling your wells, impacting your results negatively
Missing a well altogether, negatively affecting your pipetting results
Not cleaning your pipette before conducting an experiment, causing cross-contamination
Not cleaning your lab bench before pipetting, contaminating your experiments
Angling your pipette incorrectly when extracting liquids, causing air bubbles to form
Rushing through your pipetting, causing you to make unwanted mistakes
Pipetting on uneven surfaces, causing inaccuracy
What are some ways to combat pipetting errors?
Cleaning your lab bench before you begin pipetting to prevent potential cross-contamination
Cleaning your pipettes prior to liquid transfer to ensure proper cleanliness.
Inspecting the condition of your pipettes and lab equipment for damage prior to your process
Only pipetting in an upright, vertical motion, so you do not impact the liquid transfer
Keeping your lab equipment and tools within arm's reach so you do not risk knocking things over
Only pipetting on completely flat & level surfaces, to ensure you are pipetting the correct amounts
Checking the temperature of your lab prior to pipetting because temperature can affect your process
Using pipetting tools to assist you in the pipetting process, so you can work more efficiently
Does IBI Scientific offer any pipetting tools?
IBI Scientific has a Microplate Platform (MS-100) which can be used to assist you during the pipetting process. This platform is unique because it has been designed with researchers in mind. From its acrylic construction, the microplate's removable silicone mat, the rubberized feet and its adjustable capabilities, attention has been given top to bottom.
Read on to discover more benefits of IBI Scientific's Microplate Platform.
Benefits of the IBI Microplate Platform
The Microplate platform is made from cast acrylic making it:
Lightweight – making it easy to move around your lab
Highly-Transparent compared to glass
Easy to clean with 70% Ethanol
Strong due to its resistance against shattering, sunlight, and harsh chemicals
The Microplate Platform comes with a "stay-in-place" silicone mat which:
is removable from the platform
is autoclavable
is easy to clean with warm water and detergent
provides stability for well-plates by gripping onto the bottom of the platform
The Microplate Platform has rubberized "feet" on the bottom which:
provides stability and sturdiness
provides cushion between the platform and your work surface
protects the platform from structural damage
helps to keep the platform level when pipetting
protects your lab bench from potential scratches, dings, and dents
The Microplate Platform is adjustable giving you a better view of your well plate wells. This helps to prevent sight errors such as:
over-filling wells
missing wells
spilling lab materials
cross-contamination
How to adjust the angle of the Adjustable Microplate Platform:
Loosen the thumbscrews on each side of the platform, by gently rotating them with your hands
Adjust to the desired angle you want for your specific protocol
Re-tighten the thumbscrews to maintain your adjusted angle
Watch this video to see the IBI Scientific Microplate Platform in action:
Human error is a lingering frustration that researchers face when pipetting in the lab. Such errors can quickly turn a viable experiment into a one that is not in mere minutes. But with the IBI Microplate Platform, you can combat such errors while simultaneously boosting your labs efficiency. IBI Scientific strives to provide superior products that are designed with our scientific community in mind.
Click HERE to order the IBI Scientific Microplate Platform
If you have any questions regarding pipetting or the Adjustable Microplate Platform, please email us at info@ibisci.com  or call us at 800-253-253
Written by: Katie Draves
Sources Used:
Pipette Usage and Trends, www.thescientist.com